A Self Storage Lock Buying Guide
The most important thing you can do to protect your belongings in a storage unit is to choose a secure, well-maintained facility. The second thing? Choosing the right lock.
Investing in a good lock should be the priority of any storage facility renter, especially if they are storing valuable items. There are are several high-quality locks that you can buy to better protect your storage unit compared to others.
What to Look For in High-Quality Self-Storage Locks?
A strong storage lock will deter most thieves, because the time and effort to break the lock will increase their risk of getting caught. When choosing a storage lock consider the following features:
(1)Shackle
The shackle is the part of the lock that fits through the latch/hasp of your storage door. You'll want a shackle that is just thick enough to fit through the hasp. Go with the thickest diameter shackle you can that will still fit through the hasp. A 3/8″ diamter shackle or thicker should be sufficient for most users.
(2) Locking mechanism
The locking mechanism is a series of pins that hold the shackle in place when the lock is secured. When you insert the key the shackle is released. The more pins a lock has, the harder it is to pick. We recommend choosing a lock with at least five pins for the best protection, but seven to 10 is even more secure.
(3) Lock body
This is the part of the lock that houses the locking mechanism. The lock body should be all metal, preferably hardened steel or titanium.
(4) Boron carbide
Boron carbide is one of the hardest materials on earth. It is a type of ceramic that is used in bulletproof vests and tank armor. They are also used to make high-security locks. While they are the most expensive type of lock you can buy, they are much harder to cut with bolt cutters.  For most tenants such a lock may be overkill, but it is definitely the most secure.
3 Types of Storage Locks
(1) Keyless Locks
Keyless locks do not require a key and instead require entering a number code or dialing a combination. Keyless locks were first made for vehicles with remote entry systems but they are now used for everything from residential front doors to gym lockers and storage units.
This type of lock has one big advantage: convenience. You don't need to worry about keeping track of your key and you can give access to others. The downside? A thief could potentially guess your code. Some locks are also powered by electricity and you may not have access when the power goes out. Many keyless locks are also easy to cut through with bolt cutters.
(2) Padlocks
Padlocks, or cylinder locks, have pins in a cylinder that are manipulated by a key. This kind of lock is often found on luggage or outdoor sheds. Unfortunately, padlocks are not a good choice for a storage unit because they can be easily re-keyed without removing the lock and they are easy to pick by burglars.
(3) Disc Locks
Disc locks are the industry standard and they were made specifically for self-storage units. Disc locks cannot be removed with bolt cutters because the hasp (or the U-shaped part of a padlock) cannot be reached. A disc lock cannot be broken apart with a hammer, either, as a padlock or keyless lock could be. This type of lock is also very difficult to pick: it needs to be grinded off, which takes time, and makes a great deal of noise.
Disc locks are the most secure choice for a self-storage unit and many insurance companies even offer lower premiums if you secure your unit with this style instead of a padlock.
There you have it, the essential things to know about getting a lock for your storage unit. Just remember, we recommend disc locks for most self storage doors.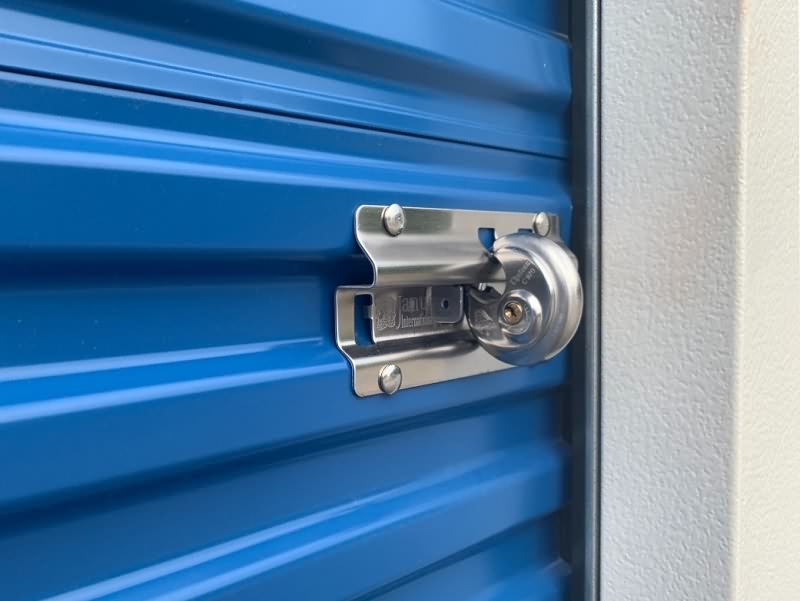 ---
Post time: Nov-22-2021